6QT CHAMPAGNE LUX MULTI-COOKER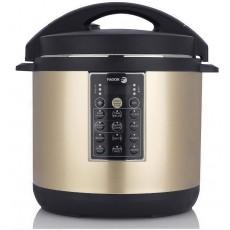 Cooking Programs:
Pressure Cooking: reduce your cooking time up to 70% compared to traditional cooking methods. Choose between high and low pressure to prepare a great variety of meals in minutes. Cook risotto in less than 10 minutes, chicken stock in 30 minutes and cheesecake in 25 minutes!
Slow Cooking: prepare classics such as pot roasts, soups and stews. Choose Between high and low temperature settings. Add ingredients in the morning and dinner will be waiting for you.
Rice Cooking: with three separate functions for White Rice, Brown Rice and Risotto, you will get perfectly cooked rice at the push of a button.
Yogurt Maker: a new function for the LUX Multi-Cooker that allows you to safely pasteurize the milk and incubate your yogurt in one pot. You can also make Greek Yogurt!
ETL approved. The multi-cooker won't open if it is locked and if there is pressure inside. The powerful heating element allows for the multi-cooker to reach pressure/temperature faster. The 6 Qt LUX multi-cooker features 1000 Watts
Assist Cooking Functions:
Brown and Saute: allowing you to brown and saute your foods in the same pot before cooking.
Simmer: extract flavors without boiling away the cooking liquid and deepen your sauces.
Steam: cook your vegetables and fish with steam and preserve their nutrients during the cooking process.
Keep Warm: launches at the end of your cooking time to ensure food will remain warm until the unit is shut off.
Time Delay: allows you to delay cooking up to 6 hours
Additional Features:
12 Easy-to-use preset buttons.
Pressure cooking time programmable up to 99 minutes.
Slow cooking time programmable up to 10 hours.
Automatically switches to keep warm once the cooking time is complete for up to 12 hours.
Self-locking lid that will not open while there is pressure inside the cooker for safety.
Color: Champagne.
Warranty: 30 days.
There are no reviews for this product.