8QT LUX VERSA 8-IN-1 MULTI-COOKER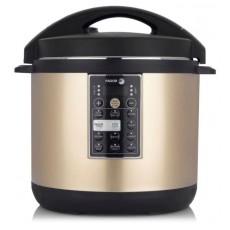 • Lux 8-in-1 Multi-Cooker delivers extreme versatility in preparing a wide variety of recipes quickly and conveniently with ease.
• Cooks risotto in less than 10 minutes, chicken stock in 30 minutes, and cheesecake in 25 minutes.
• Pressure cooking with high and low pressure settings speeds up cooking by up to 70%.
• Slow cooking for stews, soups, pot roasts, etc. • Rice cooker with settings for white, brown, and risotto.
• Yogurt maker that delivers standard and Greek styles.
• Brown, saute, simmer, and steam assist functions.
• Color: Champagne
• Warranty: 30 days
There are no reviews for this product.